About me...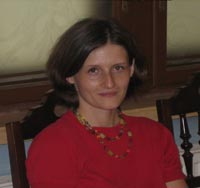 My name is Marta Czerwieniec. Genealogy is my passion for more than 10 years. For years I have been discovering the history of my family, whose roots come down from lands of Wolyn (former Ukraine), central Poland, Cracow region and other. My main achievements are finding cousins: one living in Sao Paolo, Brasil (we have common great great great grandfather ;-) and second born in USA, whose grandparents had emigrated to States at the end of XIX-th century.
Sometimes I'm even being troublesome for my family, when I change family meeting into discussion about old family stories and excavate genealogical data.
I like working in archives and libraries, read old documents, elaborate and evidence family's stories and read biographies.
I'm archaeologist, specializing in numismatics. My diploma work I wrote about middle-aged Persian coins: "Sasanian coins at the Baltic sea area" on A. Mickiewicz University in Poznan. This subject is still very interesting for me and because of it I had a chance to evidence arab-sasanian coins from collections of all Czech museums for Naprstkovo Museum in Prague, Czech Rep.
Beside this, I'm addicted to taking photos (link in Links) and enjoy travelling and meeting people.
Translation was being made subjectively by author - Marta Czerwieniec.